In just a few easy steps, digitally transfer your prescription to any CVS Pharmacy or Target (CVS) near you.
Step 1
Search for your medication on GoodRx
To transfer your prescription, the first thing you need to do is search for your prescription on GoodRx. On the results page, you'll see a blue "eCoupon" icon to the right of the pharmacy name for CVS Pharmacy and Target (CVS). Be sure to adjust the form, dosage and quantity in the menu at the top of the page so your prescription exactly matches what is on file for you at the pharmacy.
You must enter a location before selecting the green or red "GET FREE COUPON" button. Learn how to add a location to your search here.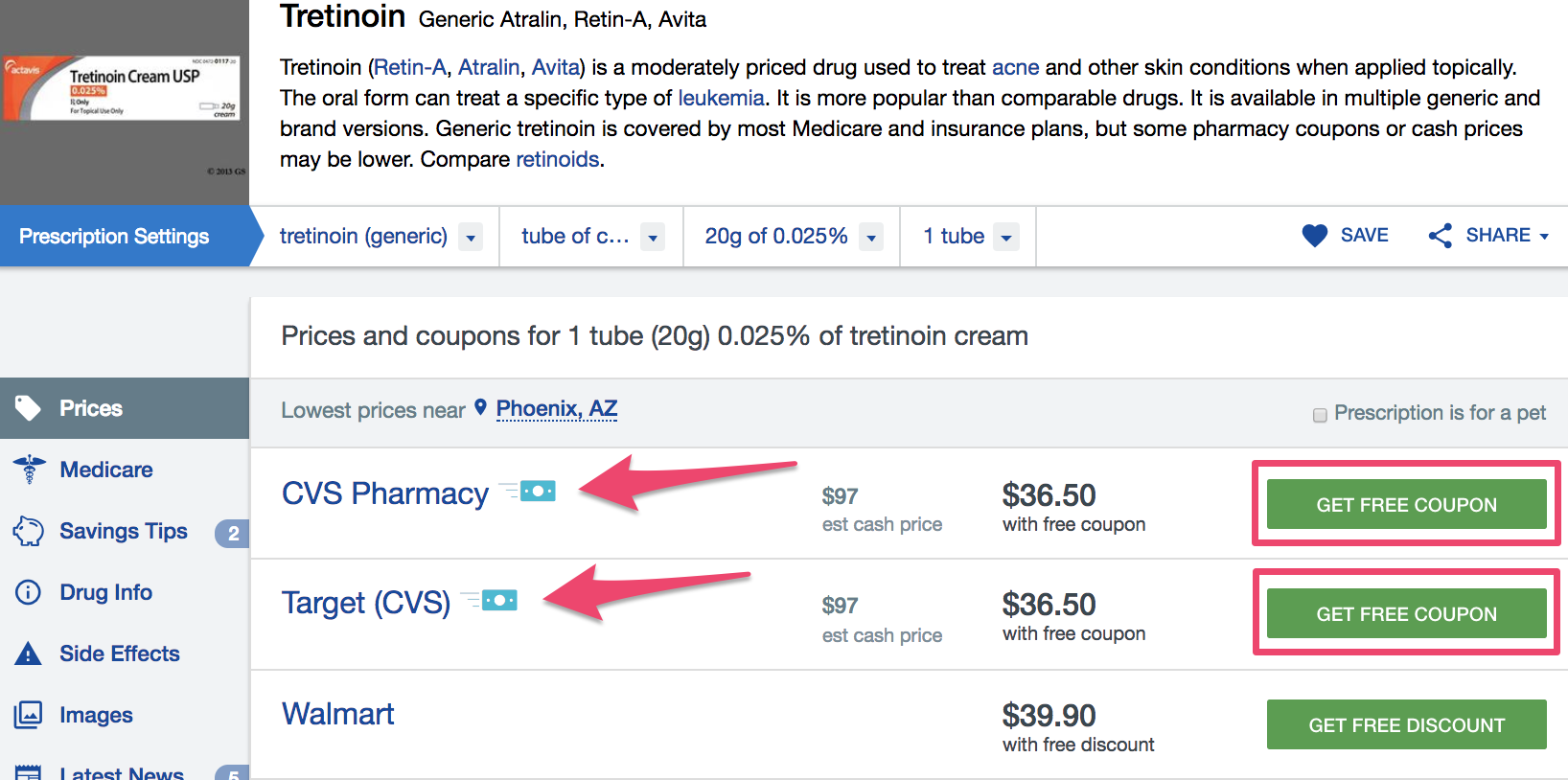 Then, click on the green or red "GET FREE COUPON" button next to the CVS Pharmacy or Target (CVS) listing and price. This will take you to the coupon print page where you will see an option to get started.  
Step 2
Get Started 
Once you have clicked on the green or red "GET FREE COUPON" button, a pop-up window will appear on the coupon print page with a blue "Get Started" button.  Click the blue "Get Started" button in the pop-up window.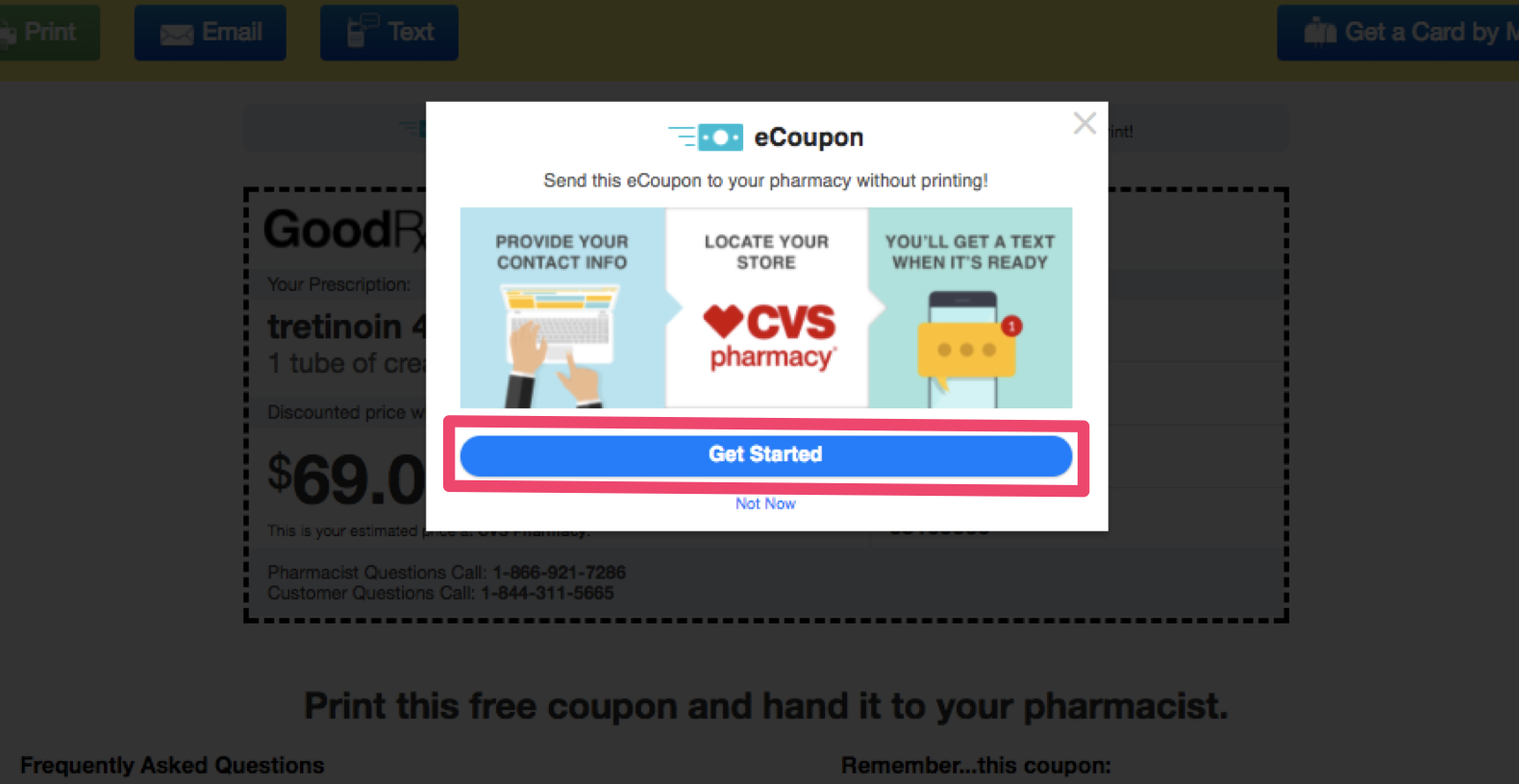 Step 3
Select the status of your prescription
You will next be asked to select one of three options that best describes the status of your current prescription.
If you are transferring the prescription from a different store, select the button that says "At Another Pharmacy."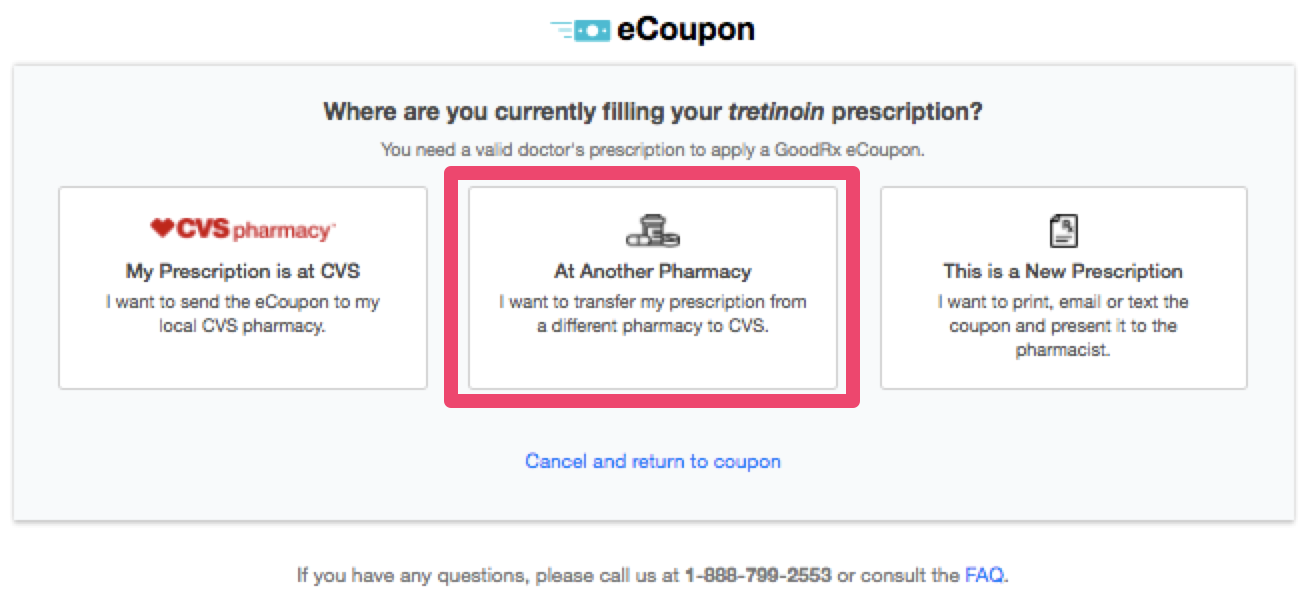 If you have a new prescription and it is not on file at any pharmacy, you will need to select "This is a New Prescription." Print the coupon and bring it into the pharmacy with your prescription if it's not currently on file at any pharmacy. Once you have it on file, you can use the transfer or eCoupon feature for your next refill.
Step 4
Fill out the patient and contact information form
Fill out the form on the next page with your patient and contact information. Be sure to enter your cell phone number in the contact info section so that CVS can text you when your prescription is ready. Once you have filled out the form, click on the blue "Next step" button.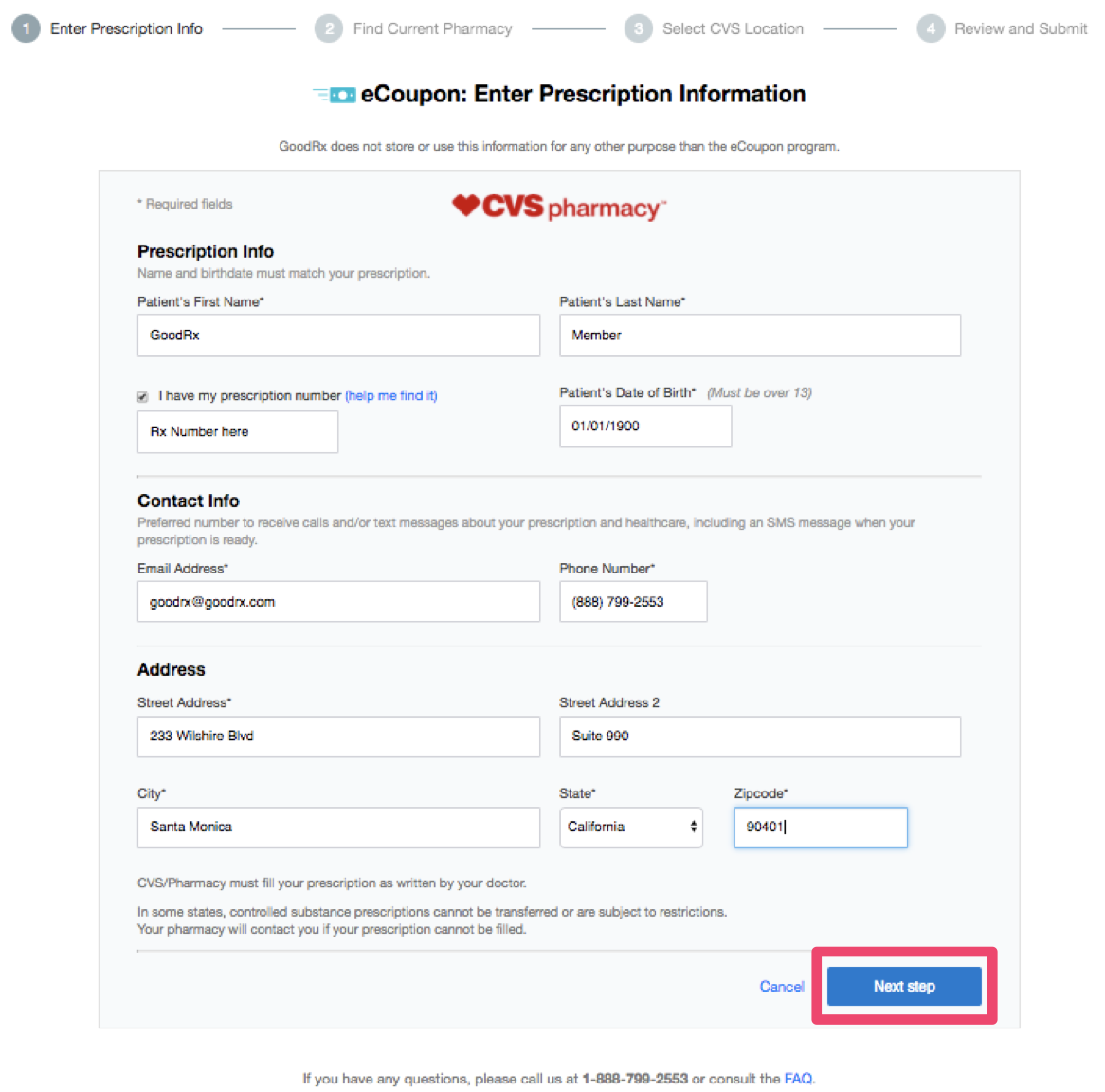 Step 5
Select your current pharmacy 
On this page, locate the pharmacy that currently has your prescription on file and click on it.  Be sure to check the address below the pharmacy name before you make your selection to ensure you are selecting the correct pharmacy.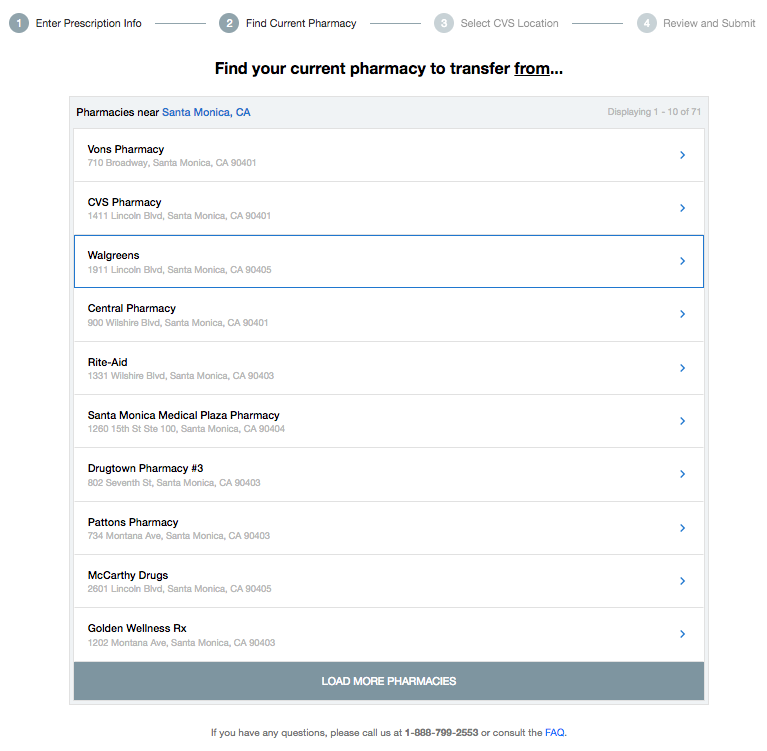 Step 6
Select the CVS pharmacy you would like to transfer

to
On this page, click on the CVS Pharmacy or Target (CVS) you would like your prescription to be sent to. Be sure to pay close attention to the address listed under each CVS or Target (CVS) pharmacy to ensure that your prescription is sent to the correct location.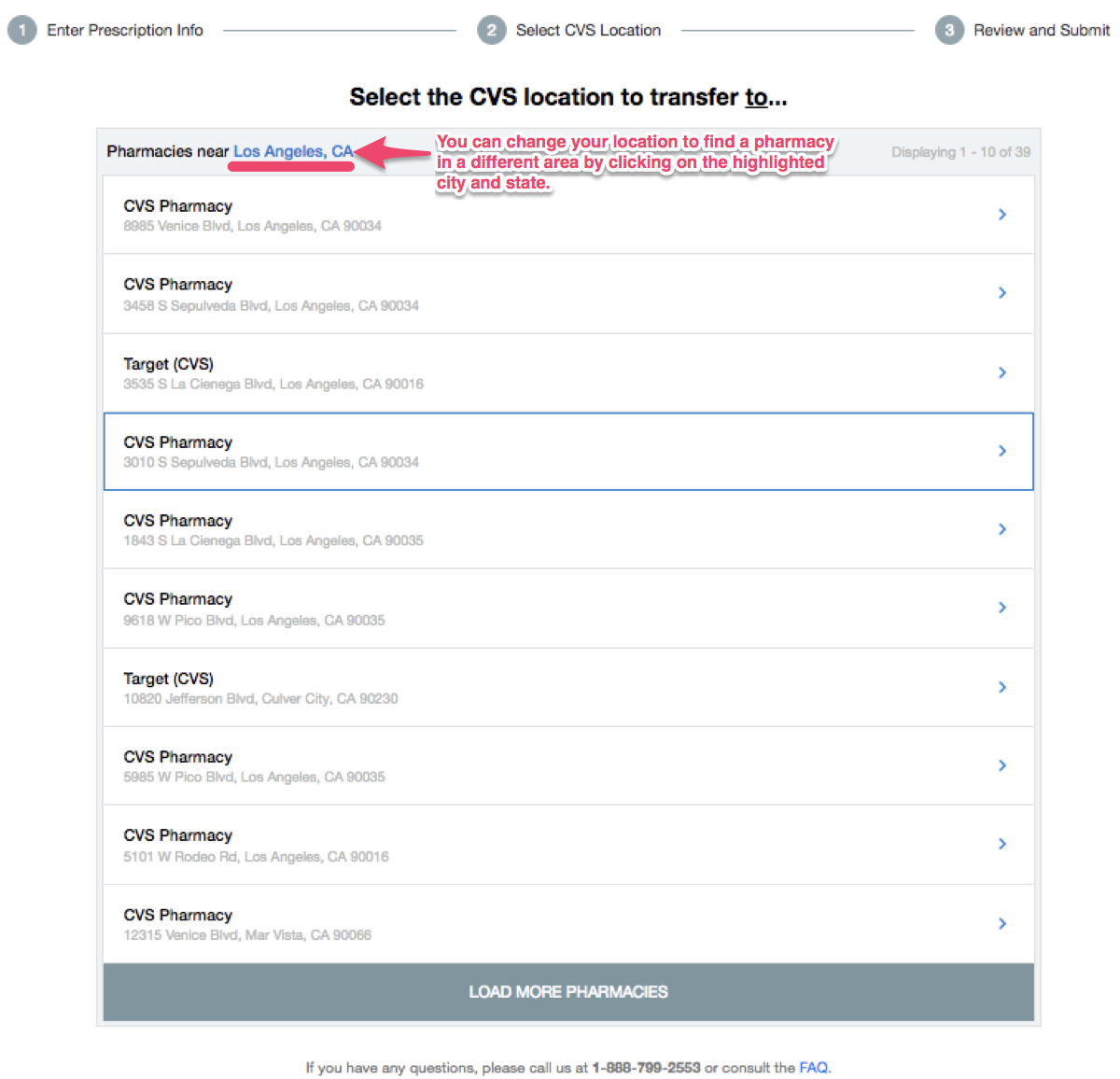 Step 7
Review and Submit 
On this page, review all of the information you've entered for your current pharmacy, the new CVS Pharmacy or Target (CVS) location, and your patient information. If you need to edit any of the pharmacy or patient information, click the grey "EDIT" button in the specific section you need to edit. If everything looks correct, click the blue "SEND TO CVS" button at the bottom of the page. You're all set!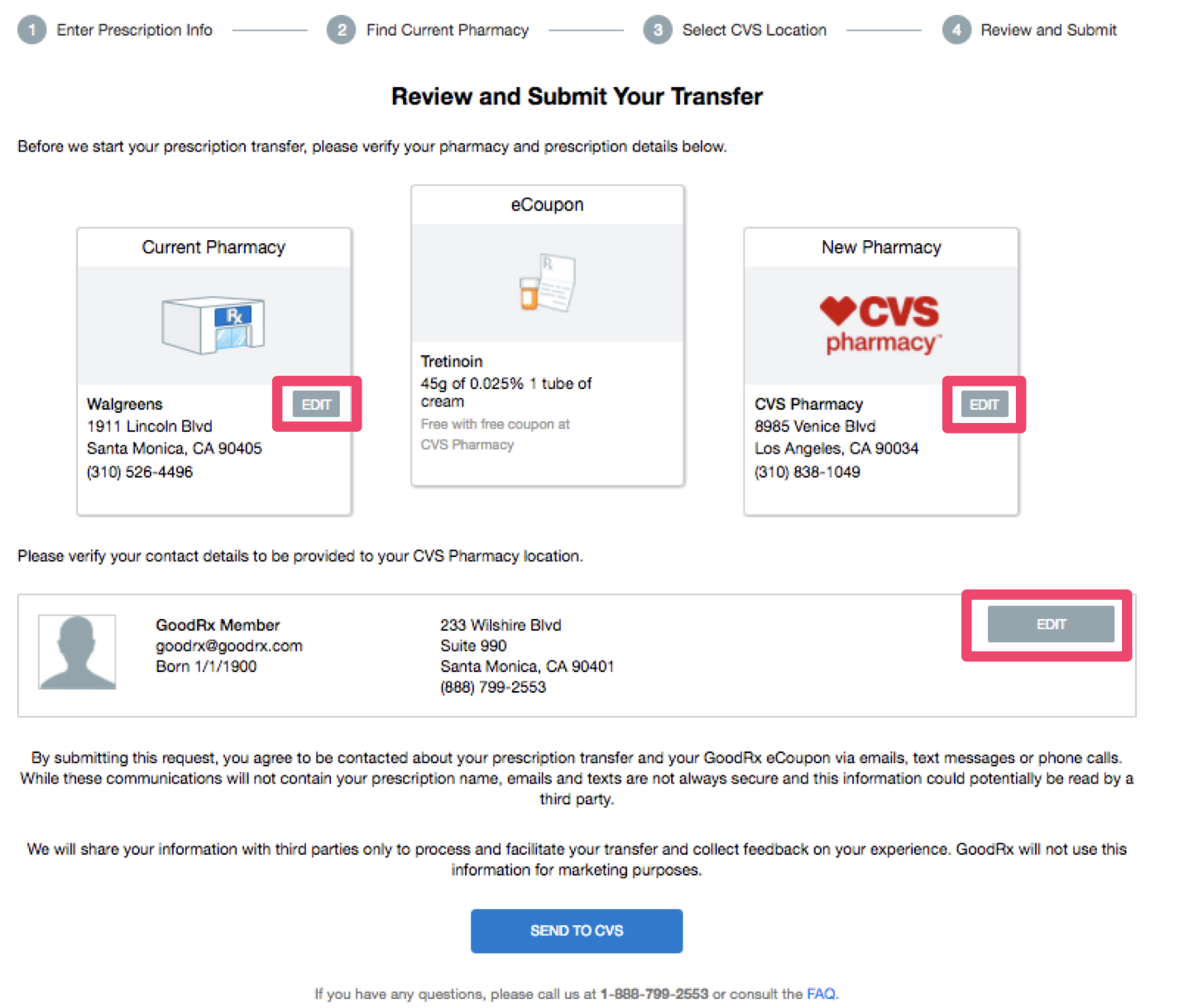 A copy of the eCoupon will also be sent to your CVS Pharmacy or Target (CVS), and they will add it to your profile. GoodRx will send you a text message and email to confirm the transfer was completed, along with your pharmacy and eCoupon details. 
When your prescription is ready for pick up, CVS pharmacy will send you a text message.
We recommend calling your new pharmacy in a few hours to verify that your transfer went through with no issues.